TURQUHOUSE BUTIQUE HOTEL
T
urquhouse Boutique Hotel, named with the settlements on the shore of the Golden Horn, is giving service with Eyüp, Ayvansaray, Balat, Fener, Cibali, Hasköy ve Sütlüce mansions, is a true historic value passed onto the present day, consists of 7 ancient Istanbul mansions, 67 rooms and 115 beds. The mansions have been restored and re-interpreted to reflect the original 18th century Ottoman architecture .It keeps the speciality of being the only hotel that can be reached by teleferic in Istanbul.

Also you can find the services of TV room, play ground, safe at the reception, generator, doctor, free parking, internet-fax, wireless internet access throughout the facility, seminar and meeting rooms for 100 people, meeting rooms including computers, Turkish bathroom, sauna, dry cleaning, washing.

In the well-qualified rooms with the cosiness of your house, there are central fire alarm, smoke detector, central heating system, telephone, mini-bar, satellite TV and hair-dryer.

Our hotel services breakfast but you can get HB or FB service according to your demand.

Turquhouse Hotel is located 16km away from Atatürk Airport, 1km from the nearest city center,1km from the nearest ferry and 7km from the nearest seabus. We have free airport and city center transportation services and 7km to the nearest seabus.
'A hotel in the city, outside the concept of time
As soon as you take a step to the Turquhouse Hotel, presenting the reinterpreted versions of Ottoman mansions, you go back to the days in which Pierre Lotti, the famous writer, was smoking his nargileh and watching the scenery of Golden Horn.

While resting far away from the chaos of the city and trying our tasteful cousin in our mansions, the history of which goes back to 18th century, you will see why Istanbul is mostly portrayed from this point of view. Besides, alcoholic beverage isn't served due to our position.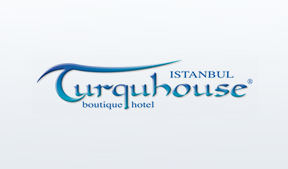 Tradename