PRISTHINA STARS
P
rishtina had a part in development of Kosovo, in the middle of Europe, as a country gained its independence in 2008, and in rallying of residential areas. Including Prishtina the capital, in which a wide part of the population accommodates, cities have been carrying the process of reconstruction. This progress in short and medium terms will continue progressing with the operations of substructure and superstructure renewals and new constructions.

We believe that, Turkey is the best option to satisfy the housing and construction needs of Kosovo due to our cultural and historical connections with this country, our historical heritage and similar social structures. The stimulants of ours to operate in a qualified, strong and aesthetic way in Kosovo the brother country, are; having faced a similar process, our international fund of knowledge and experience in the field of constructing.

We bear the responsibility that, the protection of children and family ties, relationships with relatives, friendships are irreplaceable values for both countries because of similar family structures. That's the reason why we set an example of the first site with "Prishtina Stars". Security guards, security with cams for 24 hours, parking garage under each building, indoor-outdoor swimming pools, sauna, fitness center, elevator, generator against electricity-cuts, water tanks, fire detector and precautions, a large garden, play ground and walking track are the services included.

"Prishtina Stars" is a site consisted of earthquake-resistant buildings, created with the latest technic equipment and interior design. All details to keep the social activities alive are considered in the complex. 215 flats, affordable by different budgets, in different widths have already reached the completion phase. Kosovans are offered various alternative payment schedules. Creating "better than the best" is our motto. Konak Construction won't content itself with "Prishtina Stars" and will continue constructing better for our Kosovan siblings.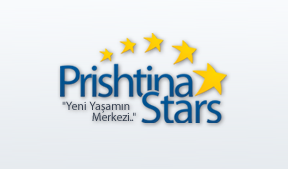 Tradename